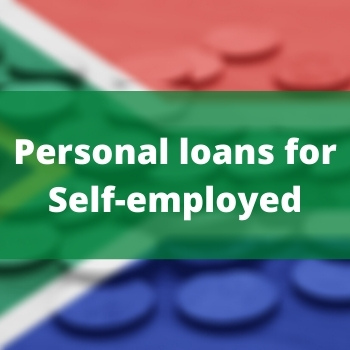 You could use it to boost your business if finances are strict. For instance, you could meet various business costs like paying for production costs or business-related costs. Online freelancers you could use the loan to expenses incurred in your line of work.
But that's not all. You can use the money to cover personal expenses like renovating your home, repairing your car, or funding a wedding ceremony. You have no restrictions on what you can do with a personal loan. And let's not forget applying for a personal loan is straightforward once you know where to look for one. That's the beauty of it all.
While all that sounds too good, getting a personal loan if you are self-employed is a challenge. Yes, you will find lenders willing to work with self-employed South Africans. That said; you're not exactly out of options. You still can get a personal loan if you are self-employed in South Africa.
Why it's hard getting a loan if self-employed
When seeking for a personal loan as a self-employed South African, expect to get the same scrutiny level as a blacklisted applicant. The reason being the source of income for self-employed people is often unstable. For most self-employed people, the income source could be diverse. Not only that, there is no guarantee you'll meet the imposed monthly obligations. The other reason that makes it hard to get a loan as a self-employed applicant is that banks and traditional lending institutions want substantial financial data before they consider your application. Ultimately, because banks ask for a lot of documents, the loan assessment can take longer than anticipated.
Features for Personal loans for self-employed South African
Borrow varying amounts of money – borrow between R,1000, and R,300,000.
Flexible repayment terms – the repayment period can range between 6-72 months, allowing you to pay off the loan at your own pace.
Straightforward to apply – Yes, it's not always easy getting approved for a personal loan if you're self-employed. However, when you know where to apply for a loan, the process is straightforward. Some options involve using online portals, so you don't have to meet the lender.
Where to apply
African bank personal loan
Loanable amount: R1,000 and R250,000.
Interest rates: 15%.
Admin fees: R805.
Repayment term: 12- 72 months.
Money shop personal loan (For those with excellent credit)
Loanable amount: R10,000 – R250,000.
Interest rate: 15%.
Repayment term: 12-72 months.
Wonga – from R4000 up to 8,000 for return customers.
Nebank – up to R300,000.
ABSA – Apply for both personal loan or smaller loans with this option. For a personal loan, the bank statement records reflect in your credit profile.
Capitec - with Capitatec, you only get a personal loan if you earn a monthly income from your business. It works well for freelancers and sole traders.
RCS General Purpose Loans
What you can do improve your chances of getting approved
First, demonstrate to the lender you are trustable. That you can afford to pay the loan, plus the payable accumulated interest rates.
Also, you collaborate with the lender to work out a unique program, allowing you to borrow a small loan. As you pay towards the monthly payments of this program, you'll also get to build your profile. Another alternative is to go for a loan with less strict measures, so as you pay off the instalments, you also build your profile. Loans with no credit-checks fall in this category. But as much as attractive as these no-credit check personal loans are enticing, anticipate paying exorbitant interest rates. Because lenders cannot review your credit profile to determine your creditworthiness, their only leverage is to cut the get from the monthly repayments. In case, you default – the lender will recover the principal amount of the loan through interest fees.
What you need:
6 months old bank statement.
6 months proof of earnings.
Valid SA ID copies.
Proof residence - 3 months old utility documents.
Active SA Bank account.
Pros:
Friendly interest rates.
Flexible repayment terms.
Allows you to rebuild your credit profile.
Suits bad credit profile.
Cons:
Long assessments periods.
Limited access with banks.
Strict screening process.
Final thoughts
If you're self-employed, your options for a personal loan are limited. You might have to consider alternative lending options like credit unions, p2p lenders, and online lenders. Such options might come with tough conditions although flexible. Even if you don't get a loan with one lender, another might consider your application. Continue building your financial records. If you own a small business, get more clients on board to demonstrate you have multiple income streams. Once you build your financial records, you can easily convince lenders you can afford to pay your monthly obligations.
For to get a personal loan if you're self-employed, demonstrate to the lender you're trustable and he won't chase you to get you to pay up.

Personal loans for Self-employed South Africans
rating:
4.5

/5 from

175

votes.

Lincoln Ndirangu
(
LinkedIn
)
Lincoln Ndirangu is a professional freelance web copywriter based in Nairobi, Kenya. For over 7 years, writing for the web and engaging the online audience has been primary focus and passion.
More information
...