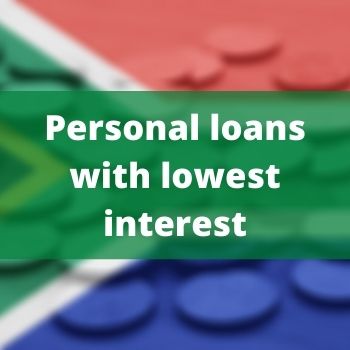 A personal loan can help you pay for that unexpected medical emergency. You could use it to turn your current house into your dream home. You can even use it to inject capital into your business. And because we're talking about low-interest personal loans, these loans come with cheap, flexible repayments. You can even use these loans to rebuild your profile if it's in bad shape.
However, not every lender offers low-interest personal loans. In most cases, low-risk South African borrowers are the ones eligible for low-interest personal loans. Such borrowers would happen to have a solid credit score that's reinforced by a positive credit history.
That means if you have bad credit or you don't have a payslip, you might not be eligible for low-interest rate personal loans with most financial organizations like banks. Few lenders will approve your application if your creditworthiness falls short.
Personal loans come in all sizes and prices. So when applying for a personal loan, it makes sense to find the lowest interest rates loans.
What are low-interest personal loans?
A low-interest personal loan is a loan that attracts low-charges on the cumulative monthly fees. Such loans appeal to many South Africans because they are affordable. These loans come with cheaper repayments and they are less stressful unlike their counterpart loans, payday loans that come with high interest fees. With a low-interest personal loan, you can cater for a wide range of financial needs. The amounts you can borrow vary between R,1000 and R,250,000.
Why apply for a low-interest personal loan in SA
Shopping for a loan isn't always smooth. The difficult part is finding a loan that fits your exact needs. At times, you want a low-interest low that you can afford to pay without much hassle. Such is the nature of low-interest loans. They appeal to many locals because of their simple and friendly nature. These loans come with friendly terms, and less demands unlike high-interest loans that could be expensive and stressful when repaying. In particular, high-interest loans from shylocks and shark loans, often structured for people with bad credit or a limited credit history.
That said, not many lenders are willing to give credit to consumers with a 'weak' credit history. If you have bad credit, nevertheless, your options are limited when looking for an unsecured loan.
For those lenders willing to offer unsecured loans to poor credit consumers, the loan is often expensive because the interest rates are beyond normal. You could pay between 25%-400% on interest charges, depending on where you shop for a loan in South Africa.
A low interest loan is the alternative if you can qualify for one. Low-interest loans are friendly, and they come with cheaper repayments terms. With cheaper terms, it's easier to manage your loan and not fall behind with the monthly repayments.
Where to get lowest-interest rate personal loans in SA
Lowest Interest rate personal loans from Banks
The first place to look for low-interest rates personal loans is banks. Several financial institutions provide affordable personal loans to consumers with an outstanding credit history. If you have an attractive credit history, banks will most likely approve your personal loan application. Interest rates can be as low as 10% with repayment timelines of up to 72 months.
Your credit history and salary are critical factors when applying for a low-interest loan. How much you pay in interest will depend on your credit history. Low-risk borrowers get a cheaper rate compared to high-risk borrowers. You are a high-risk borrower if your credit profile indicates defaulted payments and unpaid bills.
Banks offering lowest-interest rates loans in South Africa:
African Bank
FNB
NedBank
Capitec
Absa
Old Mutual
Credit unions personal loans
Another place to shop for a low-interest personal loan in South Africa is through credit unions. Loans offered by credit unions often are affordable and low priced. Like banks, you need an outstanding credit profile and be able to prove you can repay the loan. You'll have to provide a proof of income, then lenders will review your application to see if you do qualify for a personal loan.
What you need to get a low-interest rate personal loan
With every South African lender, there are particular requirements you must fulfil to be considered for a loan.
The critical requirements are:
Have a South African ID.
Have banks statements and payslips.
Have a valid bank account.
Final Thoughts
It's not so hard to find lenders offering lowest-interest rates personal loans in South Africa. But these loans are not meant for everyone. The loans are given to consumers with a neat and strong credit history. If you're self employed, it becomes even more difficult to get a personal loan at a low interest rate. You can always go for personal loans for self-employed South Africans, although you might not get the same friendly interest rates across board.

Lowest Interest rates personal loans in South Africa
rating:
4.5

/5 from

98

votes.

Lincoln Ndirangu
(
LinkedIn
)
Lincoln Ndirangu is a professional freelance web copywriter based in Nairobi, Kenya. For over 7 years, writing for the web and engaging the online audience has been primary focus and passion.
More information
...