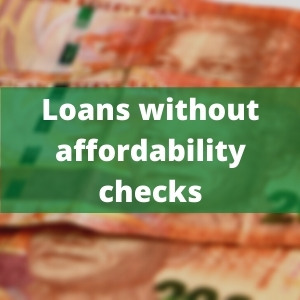 Right now, you could be trimming down some of your expenses to save a few Rands. But still, even after forgoing the cable or downgrading to a lower internet bandwidth, you could still find you need money, and your payday is still far. And the harder part could be financial institutions won't offer you credit because you have a poor credit history. So, where do you turn to for a quick loan? That's where loans without affordability checks come into the picture.
What are loans without affordability checks?
In short, these are loans given to consumers with a bad credit or a poor credit history. The loans also serve those who have been blacklisted by the Credit Bureau and those with no credit history.
Whenever you apply for a loan, the lender must evaluate two critical factors before they can accept your application. One is your creditworthiness, and the other is your loan affordability. Your creditworthiness is your likelihood of repaying the loan. Lenders will want to know whether you are a reliable borrower. In contrast, an affordability check evaluates if you can afford the loan. The lender evaluates if you're capable of paying the loan, either in full-payment or in instalments within the stipulated time-period. Once lenders ascertain you can pay monthly payments towards the loan, they are likely to approve your loan.
Loans without affordability checks usually require minimal paperwork. Lenders that work with this system will not review your credit profile to determine your creditworthiness. But it is important that you have a reliable source of income. That's the only leverage these micro-finance companies have. In fact, it might be hard to find a reputable lender who doesn't do a loan affordability check, even though a credit check isn't a must.
So, what do you need to get a loan without paperwork?
Have a stable job, preferably full-time.
Your identity documents.
Proof of residence.
Be 21 years of age.
Why you may need a loan without affordability checks
A few reasons could compel you to go for a no credit check loan. These loans are for people with a negative credit profile or no credit history. Even if you have bad credit, you could need some money for different reasons, some of them being:
Paying the home bills.
Covering a medical emergency.
Paying off pending rent arrears or tuition fee.
Taking care of home repairs or car repairs.
Loans you can you get without paperwork
With no credit check loans, two of the most popular loans you can apply for include:
A payday loan.
These are small cash loans borrowed to meet short-term expenses. You can borrow up to R2,500, payable either during the next payday or a given duration, usually up to six months.
A personal loan.
With this option, you can borrow a large sum compared to a payday loan. You can use the amount you get with a personal loan to furnish your home, buy a car, boost a business, or consolidate your debt. However, the amount you can get as a personal loan can be limited if you have bad credit. A personal loan can range between R500 – R150,000.
Interest rates payable
The major downside with payday loans with no affordability check is that they come with a super high annual percentage rate (APRs). These loans attract high interest fees within the short repayment term. Interest rates can reach as high as 400%. You pay costly fees because the lender considers you as a risk borrower.
Where to apply for loans without affordability checks
Online Lenders
If you have a scant credit profile, online is one of the places to look for loans with no credit check. When it comes to online lenders offering personal loans with no credit check, there are tons of services online. You can compare and evaluate different online lenders, assessing how reputable they are, to find a suitable lender.
Payday loan companies
Companies specializing in payday loans often offer loans with no credit check. However, the loans come with exorbitant fees, with fees as high as 400%. In contrast to banks, borrowers often get charged 10% APR.
Credit unions
Members of a credit union can apply for a loan with respective credit unions without having to undergo a credit check. Still, the credit union might consider if you can afford to repay the amount you want to borrow, even if you are a member of the institution. Plus, the loan could come with favourable terms.
The pros
Minimal paperwork.
Fast approval.
No hidden fees.
Cons
Risky to lenders who don't do proper affordability checks.
Without proper affordability assessment, you could find yourself struggling to pay off the loan.
Final thoughts
With more lenders joining the South African market, it's not so hard to find companies offering loans. However, when it comes to loans without affordability checks, you might have to look harder. That's because every reputable lender wants to know if you can manage to pay off the loan. For lenders who are lenient, they charge high interest rates on the monthly instalments. These lenders aren't only looking to make profits but they want to stay in business.

Loans without affordability checks - SA
rating:
4.5

/5 from

198

votes.

Lincoln Ndirangu
(
LinkedIn
)
Lincoln Ndirangu is a professional freelance web copywriter based in Nairobi, Kenya. For over 7 years, writing for the web and engaging the online audience has been primary focus and passion.
More information
...