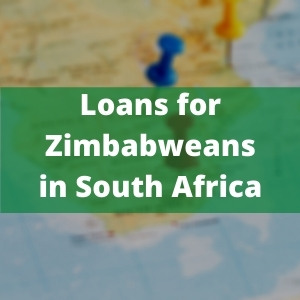 The chief reason being your credit profile might not be stellar enough for lenders to assess your creditworthiness and affordability. Your credit history is critical to banks and other lending institutions because it is a basis to judge if you can afford to repay the loan. Without this piece of information, most lending institutions will reject your loan application.
But fret not – there are loans for Zimbabweans living in South Africa structured just for you.
The bills have to be paid, and as it is – and your next payday could be weeks away. Before you think about taking your valuable items to a shylock, consider applying for loans for Zimbabweans living in SA. Chiefly, all you need is a working permit, and be a full-time employee.
Why it's difficult to obtain a loan in SA if you're a foreigner
If you are foreigner, it's an uphill task to get a loan because of these three reasons:
Limited access to credit. Before lenders in SA can extend to you any type of a loan, they'll want to know if you have a solid credit history. Or pick loans with bad credit. Borrowers who have an outstanding credit profile always have an advantage over those with whose profile has been adversely affected. Unfortunately, as a foreigner living in South Africa, you might not have a stellar credit history as leverage.
Costly fees. As a foreigner, you do not have an established credit profile. For this reason, lenders consider you as a high-risk borrower. Thus, the loan attracts high-fees on interest rates. With higher interest rates, you could end up paying higher repayment instalments. The same goes for insurance rates – the cost is elevated because of the risk associated.
Not having relevant Paperwork. Some foreigners living in SA might not have all the legal documents necessary. Without relevant paperwork, lenders will downright reject the loan applications.
Types of loans you can apply as a Zimbabwean foreigner
Unsecured loans are the most common loans that even foreigners with a valid South African ID get approved. Some lenders offer consumers loans without checking their credit history. Payday loans and personal loans are the popular unsecured loans offered in SA.
Personal loan: A personal loan has a repayment period ranging between 12 and 72 months. You can apply up to R200,000 or more with most lenders. The interest fees (APR) can range between 9.8% and 21%
Payday loan: A payday loan is a short-term unsecured loan with a repayment extending up to 3 months. As long as you have a full-time job and work permit, you can apply for payday loans from various online lenders in SA. You can apply for R4,000 for starters, and up to R10,000 for existing customers with some lenders.
Where to apply for loans for Zimbabweans in SA
Zimbabweans living in SA can apply for a loan through some banks and financial institutions. However, not every bank welcomes foreigners seeking a loan. Some banks like the FNB will turn you down while the Standard Bank and Nedbank might accept your application. Apart from banks, you could choose to go with online lenders like CoolFinance.com to find affordable loans on demand.
Also note that lenders insist that Zimbabweans applying for a loan in SA must repay the loan, plus interest fees before leaving the country.
Loan requirements
If you are Zimbabwean living in SA, you need the following to apply for a loan:
Recent bank statements (3 months).
Latest payslip.
Employment contract.
Proof of address.
Proof of identity.
How to improve your chances of getting approved
You can always do something to build your credit report and improve your chances of getting approved for a loan as a foreigner. Here are some tips:
Get your paperwork in order for a smooth, timely process.
As a foreigner, a work permit is a must. Ensure to secure one.
Clear any outstanding debts. It's hard enough you're a foreigner seeking a loan in SA. It won't be easy to apply for a loan if you are already wallowing in debt.
Work on your credit report to establish a positive standing.
Final thoughts
Loans for Zimbabweans living in South Africa are purposely structured for foreigners working and living here. As a Zimbabwean living in South Africa, don't get stuck any longer or even think about giving away some of your items at a shylock. The next time an emergency hits, stay calm knowing you have options to explore. All you need is a work permit and an employment contract. You never know when a financial emergency will strike. You'll find yourself in circumstances where you need money. It could be for overdue monthly bills like rent. It could be you want the money to undertake some home repairs or car repairs. Whichever the case – some lenders in SA got your back should you opt for a loan.

Loans for Zimbabweans living in South Africa
rating:
4.5

/5 from

128

votes.

Lincoln Ndirangu
(
LinkedIn
)
Lincoln Ndirangu is a professional freelance web copywriter based in Nairobi, Kenya. For over 7 years, writing for the web and engaging the online audience has been primary focus and passion.
More information
...