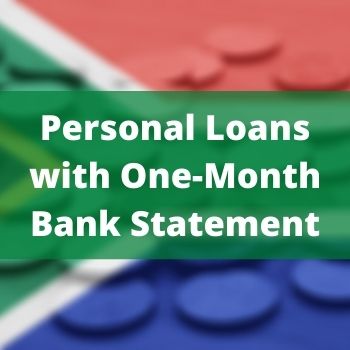 Every time you want to apply for a loan, there are always concerns that linger in mind. Like how your credit history will affect the review process. You could be wondering about where to look for a personal without all the documents banks ask from borrowers. Let's say you are in a tough financial situation right now. Now is the time to make something happen and shop for a personal loan. A personal loan can bail you out in many financial fixes.
The real challenge isn't finding a personal loan – the SA market is flooded with a wealth of financial organizations. The challenging part is finding a loan with a one-month bank statement. Banks are not an option since they'll require you to have a bank statement at least 3 and 6 months old. But all hope isn't lost as there are alternative lending institutions to try your luck.
But first, let's look at why you'd want a loan with one-month bank statement
Why apply for a personal loan with a one-month bank statement
The fact that you're looking for a personal loan with a one-month bank statement means you don't have a permanent job. You could be self-employed, thus a lot of your income might not be coming through the bank. That means because you don't have a payslip, you might also not have a bank statement reflecting your income spending.
Because most lenders will ask for a bank statement reflecting not less than 3 months, your best luck is to try a personal that doesn't require a payslip. So, having a month bank statement is leverage when applying for these loans because you have some form of proof of income. With loans without a payslip, lenders will in most cases not ask for a bank statement. But they must verify you have a legitimate source of income.
Where to apply for a personal loan with one-month bank statement
Given your chances are limited when applying for a loan with banks and most traditional financial organizations, the other options left to explore are P2P lending sites, pawn loans, and payday loans.
Payday loans – With payday loans, you don't even need a bank account to get approved. Also, lenders won't ask you for collateral and there are no credit checks. It could be you receive money through cash or check – so you never have a need for a bank account. The loans are small but you can apply with a one-month bank statement. However, the lender needs proof that you do have a source of income. Even if you don't have a solid financial record with banks, you can submit your work documents. Some lenders will still ask for a bank statement but in some cases the lenders are lenient. You can apply for payday loans offered by online lending companies.
Peer-to-peer loans – another option is to use P2P lending sites like Rainfin to shop for personal loans. Such platforms act as middlemen, connecting lenders with borrowers. Again, this means, there is no need for a bank. So, it does not matter if you have a bank account with only one-month statement to show. Because most loans offered in P2P platforms are unsecured loans, you don't need to provide collateral. Compared to banks, the loans might come with affordable fees.
4 P2P lending platforms:
Peerfin
Rainfin
Ekasi Bucks Lending – Up to R50,000.
Ovamba – targets those running small businesses.
Peerfin and Rainfin are often revered as the top best to P2P lending sites.
Requirements to meet to get a loan with these P2P sites:
A South African ID.
Be above 18 years of age.
At 3 latest Payslips.
Proof of residence.
It's worth noting with P2P sites, the terms will depend with parties involved. Some lenders might ask for proof of a valid bank account. With a one-month bank statement, however, you have an advantage. But you could still find you have to provide additional info with some lenders, like payslips and proof of residence documents. Also, some of these platforms might come with stringent measures – expect anything. Plus, you might have to arrange a meet up with the lender.
Car loans
When applying for a car loan, bank statements aren't a requirement. Dealers will work with anyone as long you have some proof of income. Some options like Rent-to-own don't need one to have collateral as long as you can keep up with the monthly payments. Once you get the car loan, make efforts to pay the monthly instalments. Failure to do so, the lender repossesses your car, auctions it to earn his money back.
While these loans often don't require a bank statement, it's important you have a one-month bank statement, plus a polished credit history. Let's you don't have a bank account and you have bad credit, then the loan might come with high interest fees.
Pawn Shop loans
If you have an item you can give up as collateral, approach pawn shops for a loan. The lender will evaluate your valuables worth, and then present you with his offer. Once you get the money, you're expected to pay back with interest, often payable in instalments. If you fail to pay the loan, the lender recovers his money by selling your item. With this option, you can get a loan with a one-month bank statement.
Final thoughts
Sometimes you'll need money but you'll not have enough of it. By going for a personal loan, you can start a business or boost a struggling one, meet business expenses, or personal bills at home. Even though you can get a personal loan with a one-month bank statement, it's not smooth sailing. You have to research and look harder. Also, work toward building your financial records with banks. Many lenders will consider you a less risk borrower when applying for a loan with a strong financial background. If you have a bad credit score – work towards bettering it, even if you can still find alternatives without a strong credit profile.

Personal Loans with One-Month Bank Statement
rating:
4.5

/5 from

98

votes.

Lincoln Ndirangu
(
LinkedIn
)
Lincoln Ndirangu is a professional freelance web copywriter based in Nairobi, Kenya. For over 7 years, writing for the web and engaging the online audience has been primary focus and passion.
More information
...